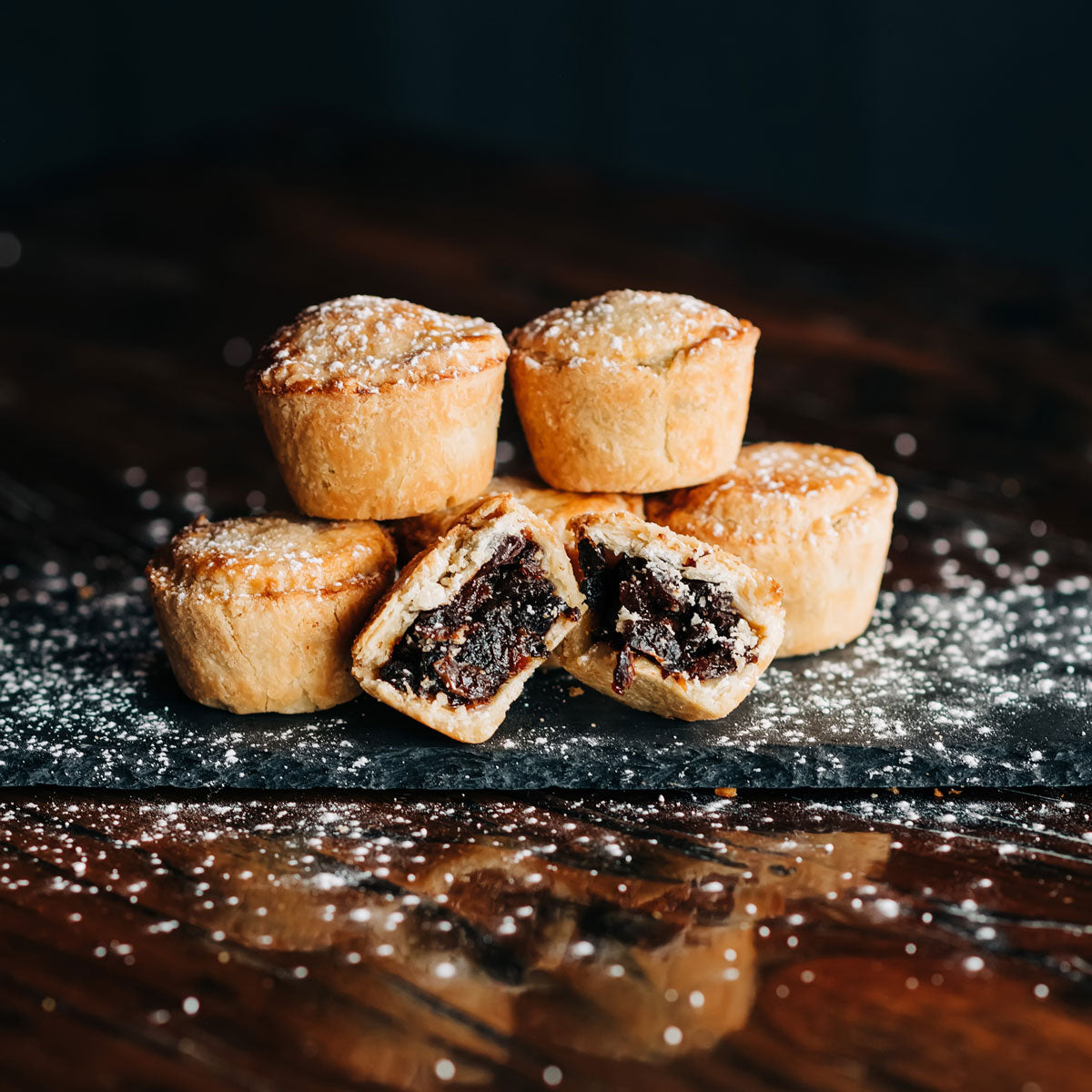 Nana Tay Tay's British Bakery creates authentic, delightfully boozy, gluten-free mince pies so you can enjoy this beloved English Christmas tradition.
Featuring gluten-free dough, the highest quality dried and fresh fruit available, and then marinated in Maker's Mark 46 premium bourbon for at least three months, you won't find a deeper and more balanced, layered flavor on this side of the Atlantic. Just ask my British expat husband, Lee. 
Made with love in our commercial kitchen, these gluten-free holiday desserts will quickly become a Christmas favorite.
Comes in a 6 pack
Only the finest gluten-free ingredients
Raisins, golden raisins, currants, crystalized ginger, apricots, cherries, apples, brown sugar, butter, cinnamon, nutmeg, cloves, orange extract, Maker's Mark 46 bourbon, gluten-free flour, xantham gum, sugar, egg
Eating & storing your
gluten-free mince pies
Eat immediately—these popular Christmas desserts are unforgettable. If you must wait, however, you can store at room temperature for up to five days, refrigerate for up to two weeks, or freeze for up to six months.
Shipping and local pickup options
Buy Gluten-Free Mince Pies online, and we'll carefully ship your order right to your doorstep via ground shipping. When your order is on its way, we'll send a tracking number so you can follow your tasty delivery to your home.
Are you in the Minneapolis - St. Paul metro area? You can also buy [product name] online for local pickup at Merlins Rest Pub.
What do people say about Nana Tay Tay's mince pies?
I order a package of mince pies every time I order takeout from Merlins Rest Pub, which is at least two times a month. Prior to last December, I had never had a mince pie. Now they are my favorite treat.
Jonathan - St Paul, MN
The most delicious mince pies. As a Brit, I've enjoyed quite a few mince pies from Fortnum & Mason and Harrods but then Tracie introduced me to hers. They are delicious, the filling is sweet with just the right boozy kick, and the pastry just melts in your mouth.
Keily Tomlin - Harlow, England
One is never enough. I have to hide these morsels from my English husband or he'll eat them all in one sitting. Best mince pies I have tasted this side of the pond.
Margaret - Minneapolis, MN (originally Brighton, England)
When I eat these mince pies, they immediately bring me back to my nan's kitchen during the holidays.
Jessica - Nashville, TN (originally Perth, Scotland)