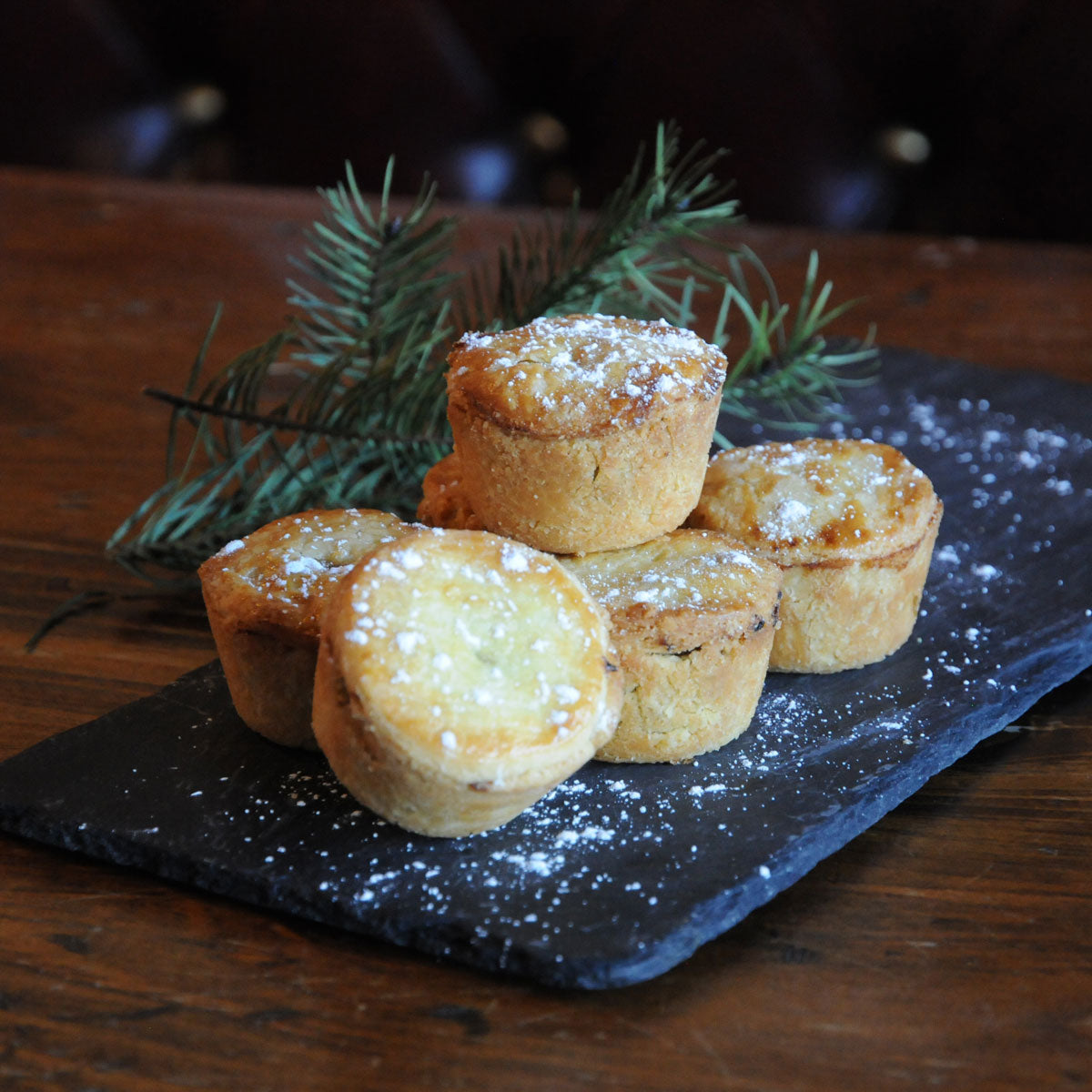 Savor this delightfully boozy mince pie filling.
Want to make your own mince pies or bars at home but don't have time to make your own mince? Nana Tay Tay's British Bakery has you covered.
Our authentic, delightfully boozy British mince pie filling helps you bake up the Christmas dessert everyone will remember. Made only from the finest quality dried and fresh fruit available, and marinated in Maker's Mark 46 premium bourbon for at least three months, it offers a far deeper and more balanced, layered flavor than any other mince pie filling available in the U.S.
Comes in a 12oz. container.
Only the finest ingredients
Raisins, golden raisins, currants, crystalized ginger, apricots, cherries, apples, cinnamon, nutmeg, cloves, orange extract, Maker's Mark 46 bourbon

Shipping & local pickup options
Buy mince pie filling online, and we'll carefully ship your order right to your doorstep via overnight or 2-day shipping. When your order is on its way, we'll send a tracking number so you can follow your tasty delivery to your home.

We take exceptional care to ensure your order arrives in perfect condition—shipping our perishable products on Mondays and Tuesdays to avoid holds en route and using dry ice and insulated liners handmade right here in the US.

As our perishable products ship at a flat rate, you'll find it's most cost-effective to fill your box. For example, 2-4 pasties and 4-6 pies. Don't forget to include a sauce, dressing, or seasoning!
Want to reduce your environmental footprint? We're excited to announce that a return-a-box option is coming soon.

Please note: We may encounter an occasional 1-2 day delay due to holidays, severe weather, and limitations on dry ice availability.
Have questions? Please contact us.
Are you in the Minneapolis - St. Paul metro area? You can also buy mince pie filling online for local pickup at Merlins Rest Pub.
What do people say about Nana Tay Tay's mince pies?
I order a package of these mince pies every time I order takeout from Merlins Rest Pub, which is at least two times a month. Prior to last December, I had never had a mince pie. Now they are my favorite treat.
Jonathan - St Paul, MN
The most delicious mince pies. As a Brit, I've enjoyed quite a few mince pies from Fortnum & Mason and Harrods but then Tracie introduced me to hers. They are delicious, the filling is sweet with just the right boozy kick, and the pastry just melts in your mouth.
Keily Tomlin - Harlow, England
One is never enough. I have to hide these morsels from my English husband or he'll eat them all in one sitting. Best mince pies I have tasted this side of the pond.
Margaret - Minneapolis, MN (originally Brighton, England)
When I eat these mince pies, they immediately brings me back to my nan's kitchen during the holidays.
Jessica - Nashville, TN (originally Perth, Scotland)